mySciLEARN

news
May 27, 2021 – Our new Teacher Resources site is live!
mySciLEARN Toolbox has a whole new look! Now called Fast ForWord Teacher Resources, it provides easier access to classroom and student resources such as teacher manuals and student worksheets, curriculum planning guides, remote use resources, and more. All of our training content remains available in the The Academy.
Apr 1, 2021 – Foundations I component updates
Check out the latest & greatest updates for Foundations I:

Foundations I teacher manuals are here!
Each brand-new printable teacher manual includes exercise goals and objectives, task descriptions, progress monitoring tips, and more.

Foundations I demos enhancements
Foundations I demos now let you preview different exercise tasks or help students who are struggling with a specific task.

Foundations I Progress Details & Error report improvements
The Progress Details & Error reports now reflect more teacher-friendly language.
Feb 18, 2021 – Elements II and Reading component updates
Check out the following component updates!
Feb 4, 2021 – Introducing Elements II!
Continuing our mission to help all students achieve their learning potential, we're thrilled to introduce Elements II, the newest addition to the Fast ForWord Literacy program for secondary readers. Just like Elements I, the new Elements II is designed for adolescent learners—it delivers the rewards, instant feedback, and socially safe learning environment they need to stay motivated and become college- and career-ready learners and readers. It's designed for both remote learning and classroom implementation, giving teachers the flexibility they need in fast-changing learning environments.
Now includes reports!

Read more
The Elements II component includes the following features:
Fresh, engaging exercise designs

provide the right blend of variety and predictability to maximize motivation for adolescent learners, while progress celebrations at consistent increments keep them involved.

A consistent "heads-up display"

in each exercise provides students with real-time feedback during their Elements II sessions, including progress details, streaks and points, and easy access to self-help.
Integrated, immediate, corrective feedback

helps adolescent learners stay motivated and progress more quickly. Students have more autonomy in getting themselves "unstuck" and back on track with automated interventions that provide just-in-time support.

Explicit instruction

on language concepts, grammatical structures, and vocabulary, which is particularly helpful to English language learners and special education students.

Increased adaptivity

creates a more personalized experience, enabling learners to fast-track through content they find easy and slow down when the content gets challenging. Greater gains can be achieved when each learner spends more time working in the zone that's the correct level of difficulty for them.

Additional demo access points

let teachers and students dig deeper when previewing tasks in an exercise.
To learn more see the following topics.
We've also added a few more helpful resources.
Student & Teacher resources » includes downloadable student worksheets and teacher manuals. And students can access all of their resources direct from their dashboard!
How it works with
mySciLEARN
Elements II is a component of the Fast ForWord product. Here's a quick overview of how it integrates into the mySciLEARN platform:
Jan 21, 2021 – New online training & certification with The Academy!
We've just launched The Academy, our brand-new Fast ForWord training and certification service that streamlines the onboarding process, provides fast, frictionless learning for every customer, and offers opportunities to earn CE credit!

Read more
To start training and get certified, log in to mySciLEARN and click the Training link at the top of the page. New users can also click the Getting Started link from their dashboard. Complete a role-based pathway (approx. 3 hours of courses), then display your certification on your LinkedIn® profile and a badge in your email signature!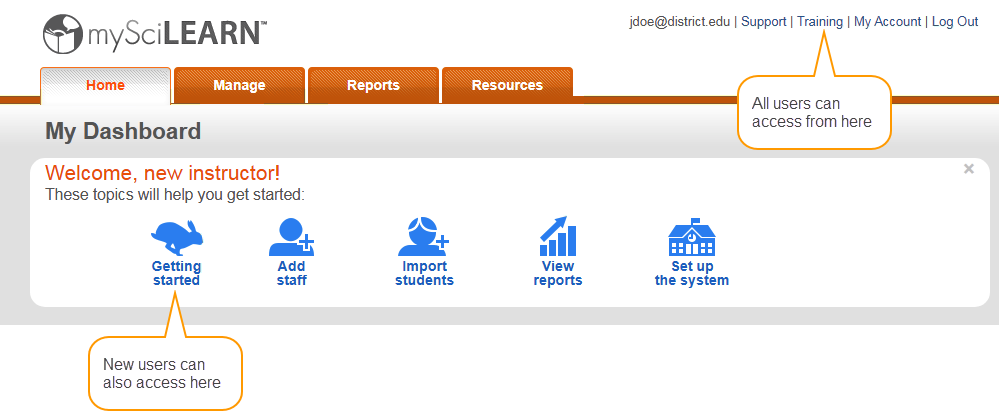 Dec 3, 2020 – Student dashboard and reports improvements

Students can now access their own resources, directly from their dashboard!
Just like the demos, students can now access printable resources and videos directly from their dashboard! Also like demos, you can turn off access for a student as needed.

New Foundations I Progress report help available
We've added our new point-of-use help to the Foundations I Progress report. It lets you easily access tips on interpreting results, along with links to printable teacher manuals and online intervention strategies when most needed.
About

shows exercise goals and objectives, links to a printable teacher manual

Quick Check

provides intervention checks, with a link to in-depth intervention strategies

Progress

explains how to check the student's progress in the exercise

Percent Correct

explains how to check the student's accuracy in the exercise

Number of Questions

shows how the number of questions a student needs can provide insight into the student's performance
Nov 12, 2020 – Student rostering with ClassLink
mySciLEARN now supports student rostering through ClassLink, a popular rostering & SSO authentication provider. Learn more.
Fast ForWord product transition from Flash to HTML5
On December 31, 2020, Adobe stopped supporting Flash Player. For many years Adobe Flash Player was the standard for web interactivity. However, as technology has evolved, the web shifted away from Flash and moved toward new open content formats such as HTML5.
To align with current technology, we've transitioned the majority of our components over to HTML5. At this time, the Foundations and Elements components, Reading Readiness, Reading Levels 1-3, and Reading Assistant Plus all use HTML5. While the legacy Flash-based componentsLiteracy, Literacy Advanced, Reading Readiness & Levels 1-5 (legacy) are no longer available for assignment, the student reports for these components will remain available until the end of 2021.
We appreciate your patience as we continue improving your Fast ForWord experience!

See also